The ultimate arctic adventure in Tromsø
Be prepared to be blown away by magnificent mountains surrounded by a glacial ocean and to experience the real arctic wilderness.
Picturesque landscapes and exciting activities await the avid explorer in you!
Northern light and the Midnight sun
Tromsø lies closely to the 70 degrees north above the arcic circle and is the largest city in Northern Norway. It offers two of the world's most amazing natural phenomena; the Northern Lights (Aurora Borealis) and the Midnight sun. These two wonders of nature will light up and elevate your experience, with the backdrop of the amazing arctic nature in the scenery.
"From September to April, the Northern Lights dominate the sky in Tromsø, and the sun never sets between May to the end of July."
Tromsø is a young and vibrant city with a rich cultural life with many cafés and bars. With its internationally recognized restaurants in the upper scale cuisine with sourced delights from local farms and fisheries.
Tromsø is also a certified sustainable destination, making sure your carbon footprint is kept to an absolute minimum.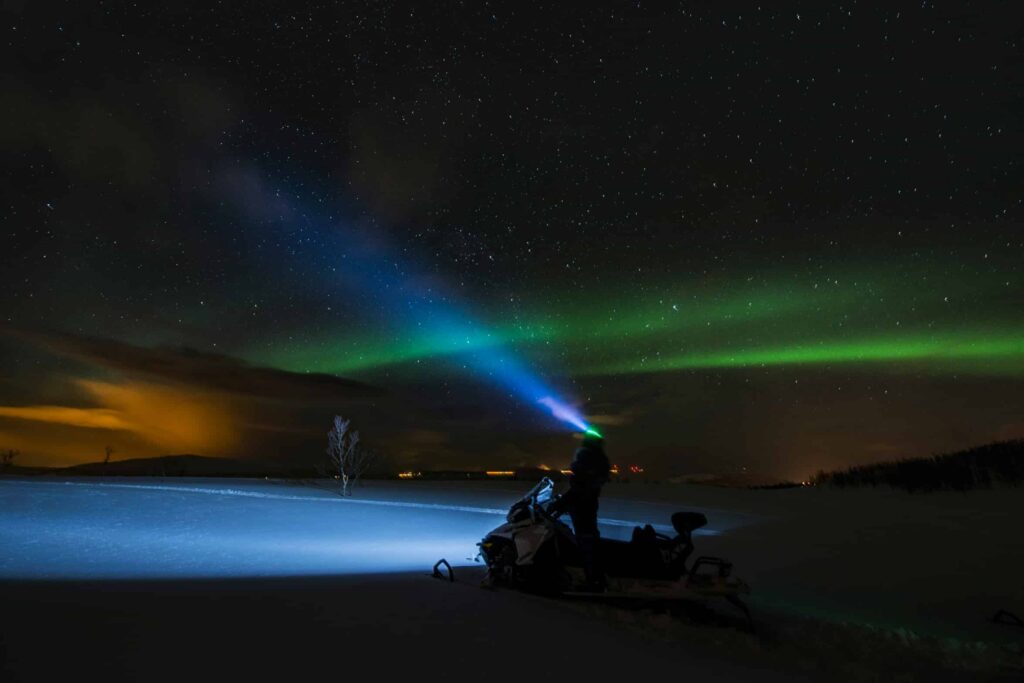 Stunning activities year round
We'll be thrilled to assist you in designing and organizing the trip of a lifetime in the Arctic. 
The Nordic light experience
Winter is a magical season in the Arctic and for those who have yet to cross "experience the Northern lights" off their bucket list, and Lyngen is the place to go. Northern lights are visible between November and April, and Kjetil Skogli, our Northern lights chaser and photographer, will be happy to take you on one of his guided tours.
Best known as "The Aurora Chaser" and for finding the lights for joanna Lumley in the BBC documentary "In the Land of the Northern Lights", Kjetil is one of the pioneers of Northern lights guiding. His tours are known to be exclusive, relaxing and educational.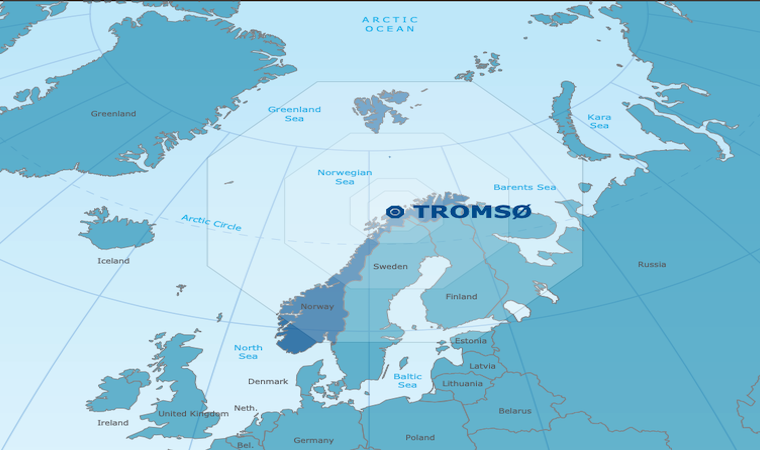 1:50 MIN FLIGHT FROM OSLO
Check-in at Lyngen Experience Lodge
Welcoming event with Kjetil Skogli
Dinner
Night pictures outside the Lodge
Early breakfast
Whale watching
Lunch
Northern Lights Workshop
Dinner
Northern lights chase
Early breakfast
Dog sledding
Dinner in the wilderness
Northern lights chase

Whale watching in the Midnight sun
Although many people do come to the Arctic to enjoy its winter natural wonder, the Northern lights, summer above the arctic circle is also spectacular. From May to July the sun does not set, and one would be pleasantly surprised at how surreal bathing in the bright lights of the midnight sun can be.
Another great adventure we would suggest you embark on during your stay in Lyngen would be to join us on a whale safari. The Lyngen Experience Lodge's boat, a Targa 46, will bring you straight to the North Atlantic Ocean. Our captain has over 30 years of experience in the Northern Seas and is a good friend of the local fishermen. The latter statement does matter, trust us. Indeed, who best to get the latest tips on where to find these elusive mammals than from locals who sail these waters every day and last sighted them?! With some luck, you will get to observe and take pictures of these magnificent creatures (from a safe distance for the sake of both you and the beautiful giants of course). Also, the breathtaking scenery alone, which you will get to enjoy while on boat, is going to be worth the trip for sure.
Ski, dog sledding and snowmobiling
From February to May, the Lyngen Alps offer one of the best wilderness ski touring, snowboarding, and splitboarding scene in the world. There, you will have exclusive access to some of the most remote peaks, ski down untouched mountains covered in powdery snow, and enjoy mesmerizing sceneries as you descend from the summits to the fjord. Our professional ski tour guides are very experienced and will lead you through incredible, yet safe expeditions. 
Skis/snowboards and avalanche equipment are available if you do not wish to bring your own. Whether you are a beginner or a pro skier, the outstanding terrain and snow quality in this region will make your Arctic ski tour one to remember. Oh, and let's not forget an old-time favorite activity of ours, the snowmobile safari in outback Lyngen. We will follow snowmobile trails up the mountains during the trip. This will give you plenty of opportunities to get your perfect shot of the mighty Lyngen Alps.
Lastly, if you are looking for a challenge while in the Arctic, our dog sledding trip won't disappoint you. It is all about exploration and you will experience the stunning landscaped of the Lyngen Alps. You will also get to try your hand as a musher, harnessing and steering your own pack of dogs. The trip usually lasts 4 to 5 hours, with a pit stop around a fire to re-energize with some coffee and snack.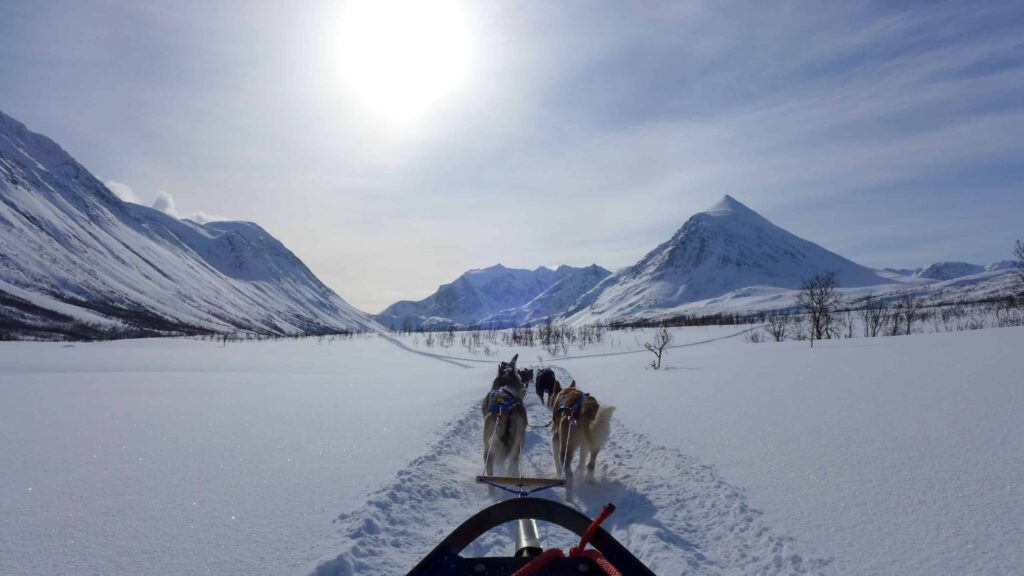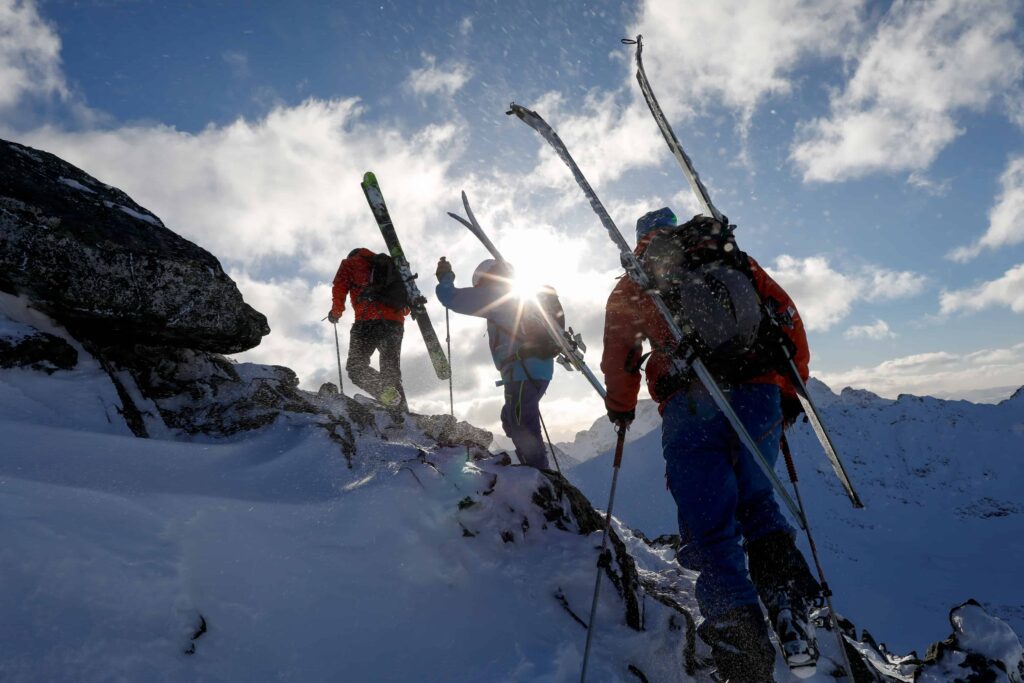 Reindeer sledding with the Sami: This trip is focused on venturing in to the fascinating Sami culture. You will learn about their nomadic lifestyle in the Tundra while enjoying a pristine enticing Arctic landscape. After a ride on the Reindeer sled, you will surely enjoy a cup of black coffee in the wodden Lavvo together with a traditional hot soup. You can also try lasso throwing or perhaps partake in singing a Joik (traditional song). Sami people have a rich tradition of storytelling and you should not miss this for the world if you have a chance to listen to some of their stories, legends and myths.
To complement your perfect travel moments, we have partnered with Norway's finest exclusive properties.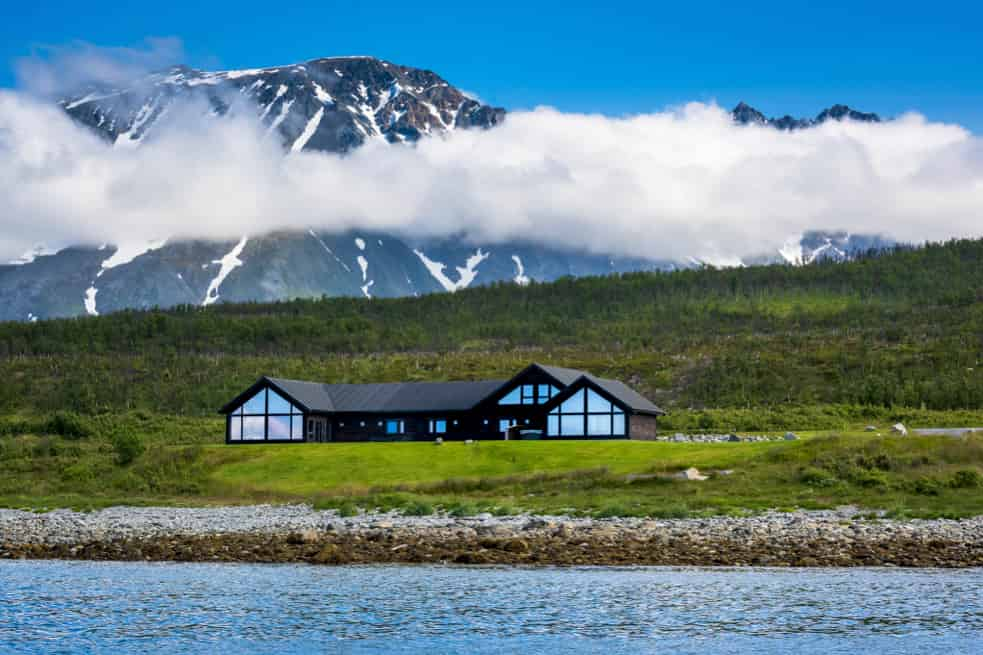 Spacious luxurious accommodation
9 bedroom - 1 master suite
Indoor spa - outdoor jacuzzi - helipad
2-30 people - family friendly
1:30 drive or 0:15 helicopter from Tromsø
Stunning activities year round
Located 85 km from Tromsø, the Lyngen Experience lodge is ideally situated in the heart of the Lyngen Alps. The lodge is easily accessible by car. But, if you would prefer a faster ride, we could arrange for our boat or helicopter to pick you up from Tromsø. Regardless of how you decide to come here though, we can assure you that you will be amazed by how scenic the ride will be.
With a stunning seafront view of the Ulsfjord and a jaw-dropping mountain backdrop, the Lyngen Experience lodge is a treat to all nature lovers. The Lodge consists of seven double and two quadruple rooms, each with an en-suite bathroom. After an exciting day skiing or dog sledding, picture yourself enjoying a well-deserved locally made Arctic whisky or warm Norwegian Gløgg (and THE view) from our fully licensed lounge bar. Also, while you are relaxing in the outdoor hot tub or sauna, our chef will be delighted to prepare for you an exquisite meal, made with seasonal locally sourced produce.